Five Fire Safety Tips & Importance Of Fire Detection System
1.Install Fire Alarms First
The finest early fire warning method is a smoke alarm. Place a smoke alarm on each floor of your residence or place of business.
Also, never forget to test the system's functionality once a month. Your life cannot be saved if the system is deactivated or has low battery power.
Moreover, think about replacing any alarms that are older than ten years. Consider building an automated fire sprinkler system for total fire protection.


2. Create A Fire Escape Plan
Always have an escape strategy in place in case of a fire. Moreover, make sure there are at least two clear exits from each room, which can be both windows and doors.
If you reside in an apartment, however, stairs are preferable over an elevator during the escape.
Make sure to rehearse your family's escape plan at least once a year.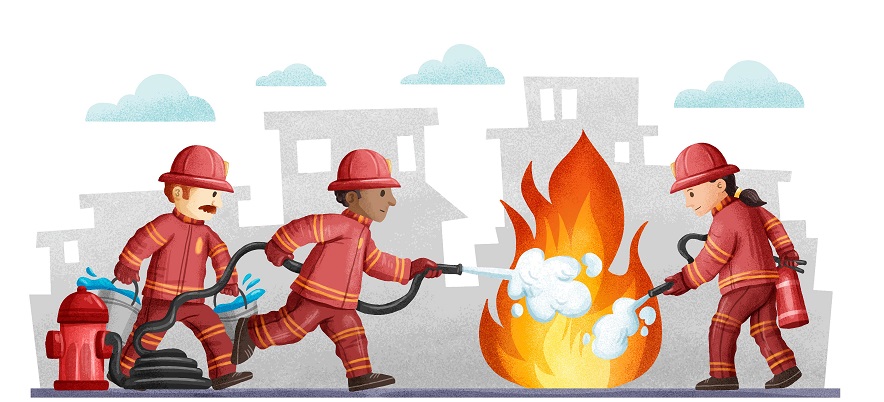 3. Keep Flames And Other Heating Equipment Under Control
The main sources of ignition in houses are open fires, heating systems, and kitchen appliances. Your home is at danger for fire if you smoke, use heaters, fireplaces, or wood stoves.
A single mistake might cause a harmless flame to ignite and become hazardous.
By making sure all open flames are extinguished before leaving, you may lower the chance of a fire.


4. Keep A Fire Extinguisher
It is crucial to have a fire extinguisher on hand. Even more crucial is understanding how to use it. Be sure that every adult in your family or every employee is aware of where the fire extinguisher is.
Before a fire occurs, they should also learn how to use the extinguisher. But, bear in mind that a little fire can only be put out by a fire extinguisher.
If there is a big fire, get out of the building and call for trained firefighters.


5. Make Use Of The Cliché Stop, Drop, And Roll
Do this simple manoeuvre to protect yourself if your clothes catches fire. Keep calm and don't flee. Pause where you are, kneel down, enclose your face in your hands, and then repeatedly turn over.
The flames will calm down, saving you from receiving severe burns. Cool burns with water if necessary.
How Crucial Are Fire Detection Systems?
In order to safeguard and save lives as well as property, early fire detection is essential. A fire warning system may greatly minimise losses and increase fire suppression efforts. Also, it is among the most essential things you can do to ensure fire safety. Early fire detection will notify you and assist you in responding swiftly so you may be out of harm's way, even if you are asleep or otherwise occupied at work.
Your fire detection system has to be coupled with a reliable fire alarm system in order to be successful. Fire alarms are essential for alerting people of homes or other structures to a fire emergency. The majority of the fire alarms also transmit a signal or message alerting the nearby fire department to the incident.
Browne Fire Protection is a professional fire prevention contractor covering Wexford, Waterford, Carlow, Kilkenny, Tipperary, Wicklow, and Cork. We can work with you to design, install, and maintain your fire protection systems as well as assist you in determining the fire protection requirements for your application. For 50 years, we have been preventing fires in homes and businesses. Contact us right away to learn more!